The Company
PS Mering GmbH
...is one of the leading German companies for
providing fiber reinforced plastic components. Our
products are used in the automotive sector as well as
in engineering and many other business fields.
By...
...integrating different composite materials in our
manufacturing process we are able to fulfill almost
every case of application quickly, efficiently and
with high quality.
Our goal is...
...to extend our existing business areas
consequently and to secure the company and its
employees, by using new technologies.
For our clients
In order to be able to offer these new
technologies to our clients, a significant part of
the company's surplus is used to develop new
products and production processes.
History
The origins of...
...today's PS Mering GmbH is based on the
foundation of Wilhelm Peter Fahrzeugbau GmbH
in the early 60th.
Early on...
...the company founder Wilhelm Peter saw the
company's future in the glass fiber reinforced
plastic sector. In addition to the construction of
attractions, like complete carousels, he produced
a wide range of applications in glass fiber
reinforced plastics.
He can be seen as a pioneer in this area.
Chronicles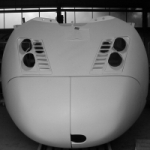 1999
... started a new era for the company, as it has been contracted to provide the head module for the German high speed train ICE III. Today PS Mering GmbH with it's trademark Polytech is one of the leading companies for the mounting of rolling stocks with glass fiber plastic components.